IceSight 2020E

Remote Road Surface Condition Sensor
IceSight IceSight 2020-E is an elctro-optical sensor which reports the surface weather condition of roadways. IceSight will detect Ice, Snow, or Water without ever having to touch the surface it monitors. The 2020-E Model is the most basic package of the IceSight Series. This model is typically specified where multiple units are required to monitor many points on a bridge or highway, and the most economical solution required.
Easy pole-mount installation of the IceSight eliminates the need for penetrating the roadway as other surface sensors require.
IceSight's high sensitivity enable it to warn road management personnel immediately when snow or ice begins to form, allowing them to take action before roads become hazardous.
Download the IceSight-2020E spec sheet
Applications
Intersection Control
Dynamic message sign control
Automatic spray anti-icing
Traffic/weather monitoring
Hazardous roads/bridges
Aircraft runways and taxiways
Parking Lots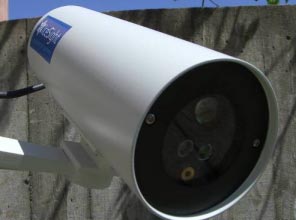 Features
Remote surface sensing of ice, snow, wet, damp, and dry
Flush optical head assembly for easy cleaning
Sensor accuracy immune to passing traffic
Air Temperature
Internet compatible communications - view data from any web browser
Flexible data streaming - integrate with existing RWIS
Low power requirements - may be solar powered
Easy Installation
Rugged all-weather design