IceCap

Road Surface Contamination Sensor
IceCap is an in-pavement road condition sensor designed specifically for ITS applications. The sensor allows the monitoring of the pavement status as well as pavement temperature. This system detects traction hazards including ice, snow, or water in real-time. It is an economical solution for many applications such as roadways, pedestrian walkways and runways.
The IceCap utilizes patented E-Field technology advancements to determine surface condition. The system is packaged in a flanged aluminum enclosure intended to be mounted in the shoulder or median of an asphalt or concrete road. The top of the unit is flush with the surface of a shoulder or median.
The resulting data is analyzed and reported in real-time. Ice and water condition, relative ice severity, and surface temperature are provided. Sensor size can be specified by the customer to give desired range of ice and water sensitivity.
The flexible data stream can be integrated with existing telematic systems for easy data transfer to a hand-held or laptop device for real-time monitoring.
Download Datasheet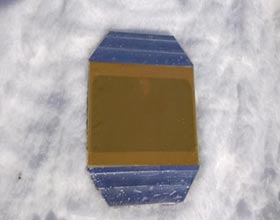 Features
In-pavement road sensor
Reliable surface sensing of dry, wet, frost and ice conditions
Easy integration with existing telematic or data logging systems
Open communication and data
Low power consumption
Low cost